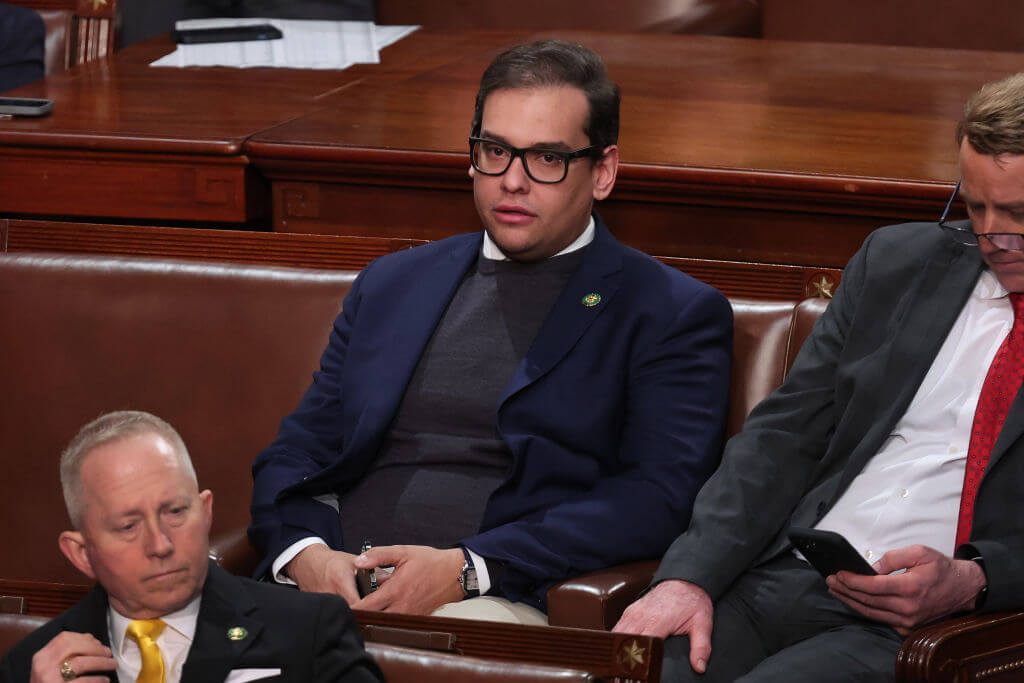 An overwhelming majority of Jewish voters in New York's 3rd Congressional District – 94% – think their freshman Republican representative, George Santos, should resign from Congress over a web of lies about his background, according to a new poll published Tuesday.  
Jews made up 13% of the 653 registered voters in the poll conducted by Siena College for Newsday between Jan. 23 and 26 via landline and cellphone. The poll has a margin of error of plus or minus 4.4 percentage points. 
Santos has come under fire for lying about having Jewish grandparents who fled persecution during World War II and calling himself a "proud American Jew" during the campaign. He reportedly posted offensive remarks about the Holocaust and made jokes about Jewish stereotypes before he ran for Congress.
He has rebuffed calls to resign, claiming he's beholden to the 142,000 people who elected him.
In an interview with an NBC reporter on Saturday, Santos repeated the debunked claim that he has "Jewish ancestry" but he refused to engage with the media about the revelations that his maternal grandparents were both born in Brazil before the Nazis came to power and that his mother was a practicing Catholic. 
Only 9% of Jewish respondents said they voted for Santos in November. His Democratic rival, Robert Zimmerman, who is Jewish, received 72% of the Jewish vote.
Nonetheless, 63% who said they voted for Santos on the Republican and Conservative lines regret their choice. According to the poll, 87% of Jewish voters do not think Santos can be an effective representative for the people of the district, and 81% say it was wrong for House Speaker Kevin McCarthy to have seated Santos on two lower-level House committees.
Santos gave a speech on the House floor on Friday marking International Holocaust Remembrance Day. On that same day, a number of descendants of Holocaust victims and survivors published an open letter to McCarthy urging him to respect the memory of those that perished in the Holocaust by forcing Santos out of office. 
"To falsely claim to be a descendant of Holocaust survivors makes him both a traitor to the sacred memory of those we lost in the Holocaust and a traitor to the truth," Linda F. Burghardt, a scholar-in-residence at the Holocaust Memorial & Tolerance Center of Nassau County, New York,  and a resident of Great Neck, wrote in the letter.
Earlier this month, Jewish Republican elected officials in Nassau County called on Santos to submit his immediate resignation. 
Bruce Blakeman, Nassau County's first Jewish executive, called Santos a "stain on the House of Representatives" who deceived a large population in his district "who identify themselves legitimately as being Jewish" with his lie about his grandparents.
The post Poll: 94% of Jews in George Santos' district want him to resign appeared first on The Forward.