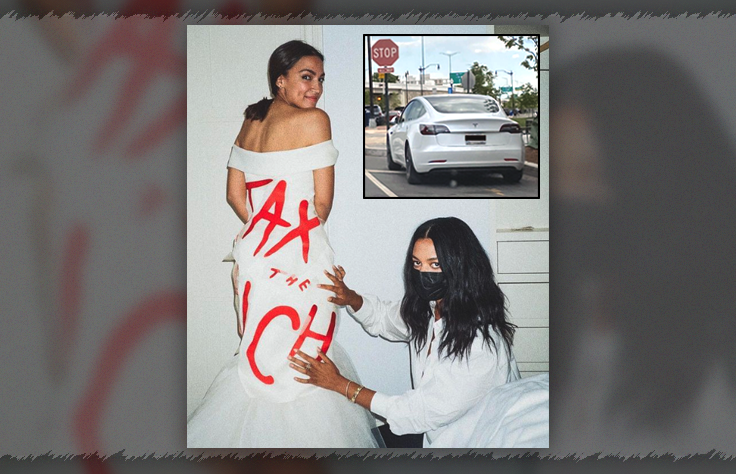 The House Ethics Committee on Wednesday announced that Rep. Alexandria Ocasio-Cortez (D., N.Y.) is the target of a bipartisan probe but declined to reveal the specific allegations being investigated.
Fortunately for the curious of mind, a Washington Free Beacon analysis has determined the eight most likely explanations for the committee's interest in AOC's numerous ethical shortcomings. Enjoy!
1) Met Gala shenanigans 
The celebrity politician drew attention to herself by waving a "Tax the Rich" dress to the swanky Met Gala in 2021. Ethics watchdogs accused Ocasio-Cortez of violating the House rules by improperly accepting gifts—in the form of clothing, fashion accessories, and various grooming services—for the event. A second complaint accused the congresswoman of ethics violations for accepting free tickets to the Met Gala, which reportedly cost $35,000 a piece, and sitting at a sponsored table valued at $300,000.

2) Shady finances
AOC has struggled to file her required financial disclosure forms on time.

3) The time she pretended to get arrested in front of the Supreme Court
Ocasio-Cortez drew attention to herself once again in July 2022 by pretending to be handcuffed by police during an abortion protest outside the U.S. Supreme Court. The stunt was orchestrated in collusion with the Center for Popular Democracy Action, a left-wing dark money group funded by billionaire George Soros.

4) Illegally parking her Tesla like a degenerate wine mom
The Free Beacon is the only media outlet courageous enough to report on the congresswoman's Tesla ownership and inability to follow the rules. On multiple occasions, we exposed AOC for illegally parking her Tesla in front of a Whole Foods in her posh Washington, D.C., neighborhood. Her refusal to follow simple parking laws suggests an addiction to antisocial behavior that can only be sated by committing increasingly sinister crimes.

5) Betraying Hillary Clinton (and stealing her signature outfit)
Ocasio-Cortez endorsed Sen. Bernie Sanders (I., Vt.)—Hillary's bitter rival—in the 2020 presidential election. In the most recent election cycle, AOC backed Nina Turner, a radical left-wing "defund the police" advocate, in the Democratic primary for an open House seat in Ohio. Hillary and other establishment Democrats endorsed Turner's opponent, Shontel Brown. Hillary's choice would go on to win the party's nomination, but she'll never forget the slight. May God have mercy on her enemies.

6) Dating well below her level of attractiveness
Is this ethical?

7) Cavorting with anti-Semites
AOC routinely pals around with fellow "Squad" members Ilhan Omar (D., Minn.) and Rashida Tlaib (D., Mich.). Both are notorious Jew haters.

8) Manspreading
Some have compared AOC to bloodthirsty Russian dictator Vladimir Putin, who has been accused of "manspreading" to intimidate his opponents.
The post Analysis: Why AOC Is Under Ethics Investigation appeared first on Washington Free Beacon.