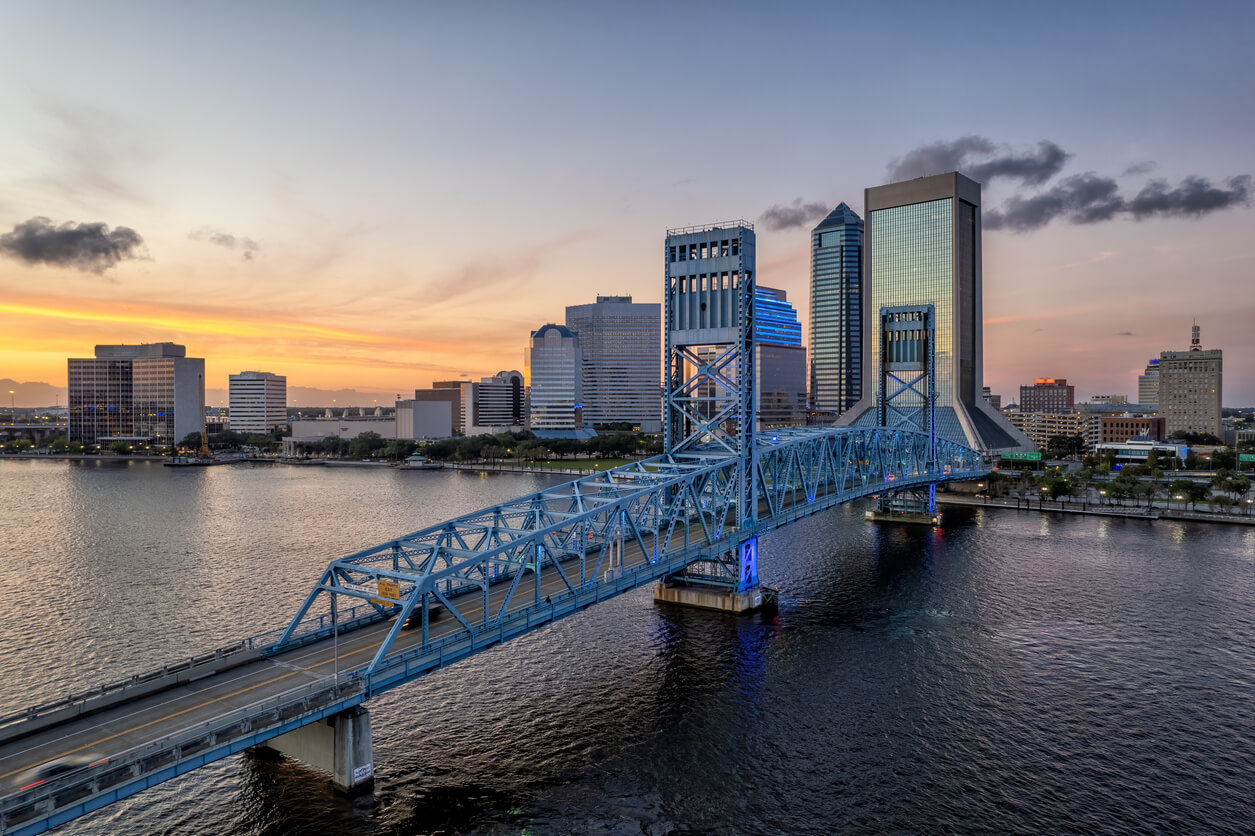 City council members in Florida's capital city are working on a law allowing for tougher penalties for projecting images on buildings after several antisemitic incidents across the state.
On Monday, Jacksonville City Council members unveiled details about the bill, which would involve a misdemeanor criminal charge and fines. The bill has yet to be finalized; a vote is scheduled for Jan. 24 and it could become enforceable law within a month. 
Jacksonville City Council member Rory Diamond said that while he believes the projected images violate existing laws, a new bill would add clarity by making it illegal to project any images or messages onto a building without permission. He said the proposed law would both protect property rights and crack down on "unwanted speech." It would also "give some teeth" to penalties by making violations a misdemeanor with a minimum $2,000 fine and the possibility of up to six months in prison. 
"It's a message that Jacksonville City Council sees this and is responding," he said. "As representatives of all 1 million people who live here, we're saying 'No thanks, not here, no way."
hey @TIAABankField what the hell #UFvsUGA pic.twitter.com/3sYRNEH8xs

— sophie (@sophiegator) October 29, 2022
On Monday, antisemitic messages and a swastika were projected onto the side of a commercial building in heavily Jewish West Palm Beach. 
In Jacksonville, offensive messages were projected onto the side of the TIAA Bank Field during a college football game in October. Those messages, which referenced Kanye West — who was, at the time, making antisemitic comments in a series of media appearances — were condemned by both schools as well as the Southeastern Conference for college athletics in the region. Similar messages were also projected onto an expressway, Jacksonville's Wells Fargo Center and an apartment building. 
In many localities, using electronic devices to temporarily project slogans and symbols onto buildings and other public spaces is a way to publicize a message without breaking laws against trespassing or vandalizing property with graffiti or other permanent defacements. The technique was used in 2018 in an anti-Trump stunt, when an obscenity was projected onto an entrance of the Trump International Hotel in Washington, D.C. Other examples of the tactic include activists projecting a Ukrainian flag on the Russian embassy last year. Whether such activity is legal and whether it can be restricted appear to be a matter of some debate: Property issues and First Amendment issues are both at stake.
Footage of the Jacksonville apartment video projection bears the watermark of National Socialism Florida, which the Anti-Defamation League has described as a "small but growing" hate group associated with the Goyim Defense League, which recently relocated to Florida.  
Horrifying – neo Nazi Joshua Dan Nunes and his group NSF (National Socialism Florida) projects "Jews are wrecking the USA" in Jacksonville, FL this past weekend

Nunes often works alongside known antisemite Jon Minadeo II and his group, GDL

Minadeo recently moved from CA to FL pic.twitter.com/kLSLZ1cWOV

— StopAntisemitism (@StopAntisemites) January 16, 2023
Diamond downplayed the group's presence in Florida, saying he doesn't believe they are "particularly bigger or more nefarious than any of these other terrible neo-Nazi groups," but that cities must remain "vigilant" on behalf of their Jewish communities. 
In the West Palm Beach incident, a police spokesperson told WPTV that police found the people responsible for the projection and that they were uncooperative. Although the spokesperson said the city doesn't welcome hate speech, it's unclear if those responsible will face any charges. 
Last night, in downtown West Palm Beach, swastikas and antisemitic, violence inciting messages were projected onto a building. These messages are so normalized in Florida (and the US) that our news outlets are silent. @pbpost @WPTV @WPBF25News @FOX29WFLX pic.twitter.com/F9TmCQXnrI

— Disease Detective, MPH (@jewcyfruitmph) January 15, 2023
Diamond said there's been communication between Jacksonville and officials in South Florida about his city's proposed bill and the possibility of replicating it. Boca Raton Mayor Scott Singer did not immediately reply to a request for comment. 
Police said they believe the incident is connected to yet another antisemitic incident, this one in Boca Raton. In April, several residents found flyers with the image of Adolf Hitler and other anti-Jewish content outside their homes.
The post Antisemitic images projected onto buildings spur Florida politicians to propose a new law appeared first on The Forward.