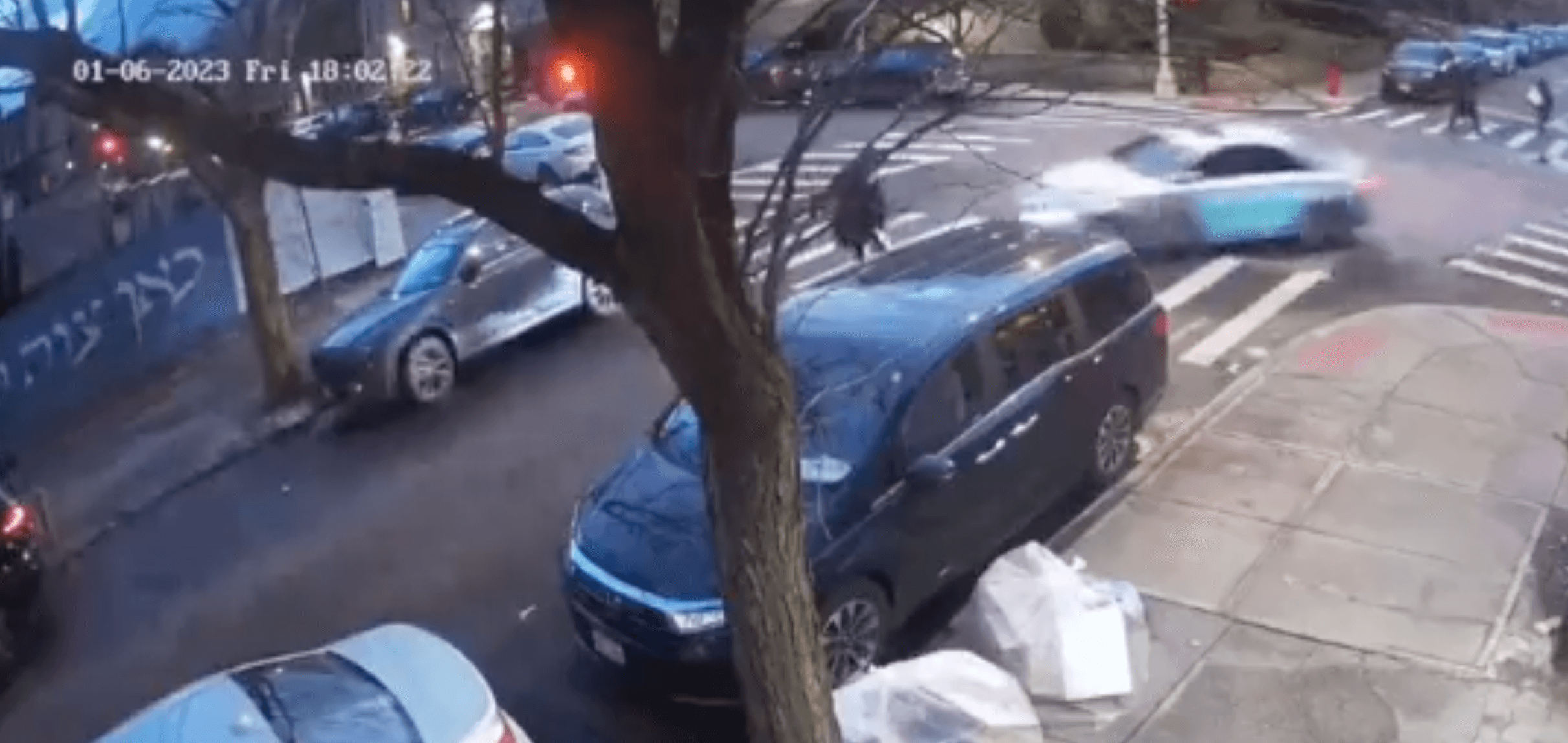 Police are investigating a hit-and-run in Crown Heights, Brooklyn, that left a Hasidic man injured on Friday. 
In dramatic video of the incident, a white BMW makes a left turn, colliding with the 55-year-old man, who rolls off the hood. The man is heard screaming as the car immediately accelerates away. A woman is then seen running down the sidewalk calling out "Hatzalah," a volunteer emergency health service that operates in the area. 
Right next to my house this Friday night. What seems to be a targeted antisemitic attack.
Frightening and scary. pic.twitter.com/Go3eKdYg9D

— 𝕄𝕖𝕪𝕖𝕣 𝕃𝕒𝕓𝕚𝕟 (@MeyerLabin) January 8, 2023
A second video obtained by the Crown Heights Shmira civilian patrol group and posted by local news outlets shows the incident from a different angle. In that video, the car rolls up to a red light, stops briefly and then makes the left turn. While the driver's intent is unclear, the car appears headed toward the victim while turning.
Police said the victim was taken to Cobble Hill Health Center for treatment. According to Meyer Labin, who lives near the site of the crash, the man suffered a serious leg injury.
No arrests have been made. 
In a tweet, New York State Attorney General Letitia James called the incident "horrific" and asked anyone with information to come forward to police. 
This is horrific.

I'm praying that this man makes a full recovery, and if you have any information about who committed this abhorrent act, contact @NYPDnews immediately.https://t.co/nQx5J3p7fE

— NY AG James (@NewYorkStateAG) January 8, 2023
Police officials and the Crown Heights Shmira did not immediately respond to requests for comment. While social media posts speculated that the incident was antisemitic, it was unclear whether the NYPD was investigating it as a bias crime.
The Lubavitcher movement is headquartered in Crown Heights and the streets are often busy on Fridays in the late afternoon as locals prepare for Shabbat. Police said the hit-and-run happened at around 4 p.m. One commenter on social media, explaining why the young woman in the video ran down the street calling out for an emergency ambulance, pointed out that passersby might not have been carrying cellphones as sundown neared.
Brooklyn has seen a rash of antisemitic attacks over the past few years. Last January, the Anti-Defamation League offered a $5,000 reward for information on an attack on a 21-year-old Hasidic man in Crown Heights. In May, a man wearing traditional Hasidic clothing was taken to hospital after he was punched on the street. According to the ADL, New York led the country in antisemitic incidents in 2021 with 416 incidents, a 24% increase over the previous year.
The post Hasidic man injured in Crown Heights hit-and-run appeared first on The Forward.