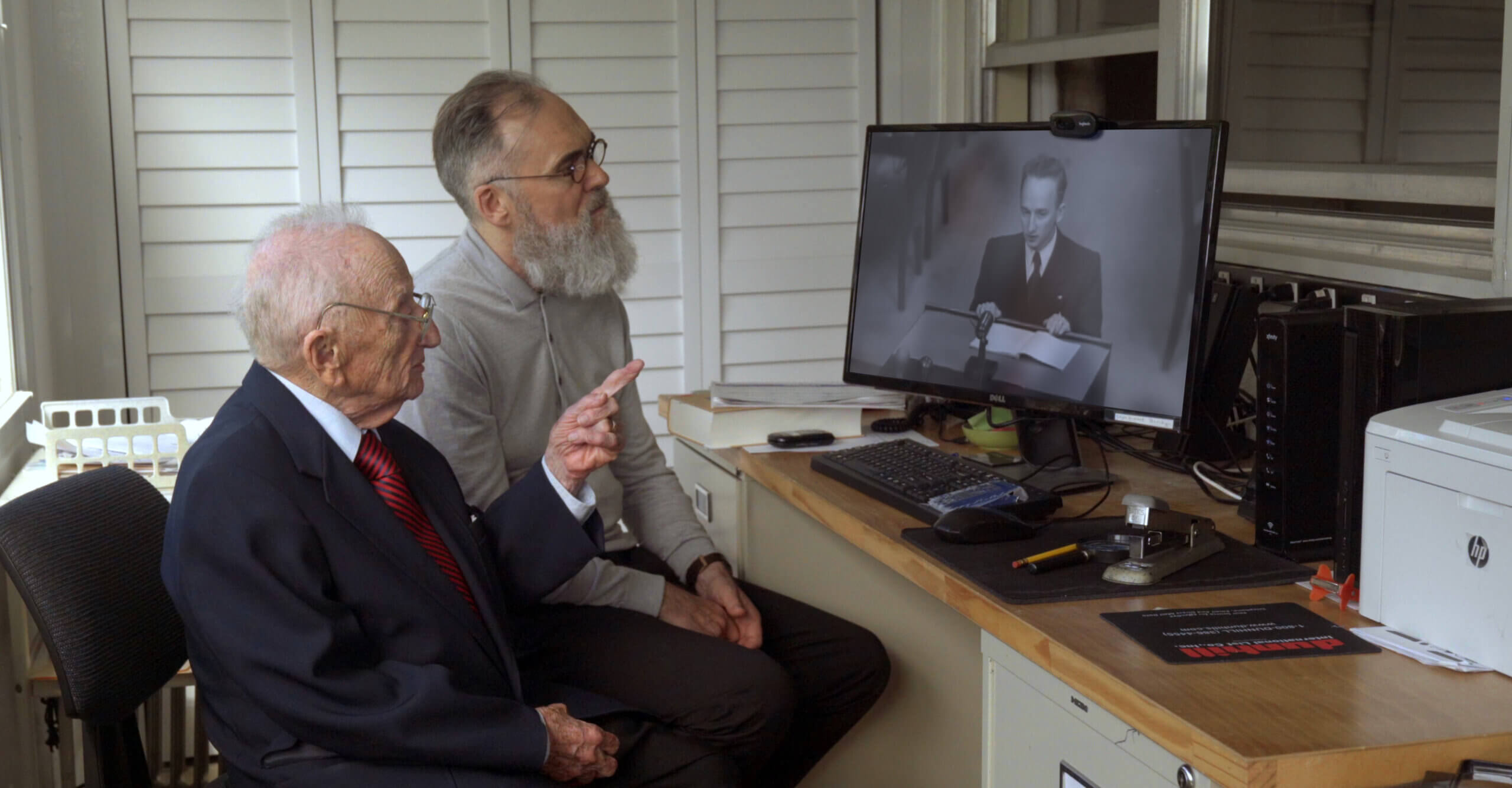 On March 4, 1987, The Daily Telegraph ran an editorial responding to news that 17 alleged former Nazis were hiding in the UK, and what ought to be done about them.
"Nazi-hunting has become a new and frankly distasteful blood sport," the article, which had no byline, opined. "It is no reflection of anti-Semitism or the indifference to past atrocities to feel an overwhelming revulsion against the notion of further war crimes trials almost half a century after the alleged horrors took place."
British director David Nicholas Wilkinson reads this selection aloud in Getting Away With Murder(s), a staggering documentary about the political considerations and, in the end, indifference, that let an estimated 99% off the hook for the murder of millions. 
The Telegraph wasn't alone in this opinion. The Times of London wrote a lead editorial the day before, claiming that trying Nazis after the fact ran against the Christian values of mercy. In other words, holding Nazis to account, allowing them the due process denied their victims was in fact a kind of unseemly Jewish vengeance.
The scene where Wilkinson reads from the papers, one short moment in a three-hour documentary that travels to Poland, Germany, the Czech Republic and many sites of Nazi mass murder, is somehow more chilling than the images of the Holocaust or the accounts of atrocity. That journalists rejected calls for accountability for what they outrageously termed "alleged horrors" as distasteful unlocks an essential fact: For much of the general public, justice has a sell-by date. It also has what Wilkinson calls a price tag, with so-called pragmatists often arguing the cost of pursuing and prosecuting the offenders wasn't worth it.
Beginning the film at Auschwitz, Wilkinson, speaking to a tour guide and survivors, demonstrates the process of Nazi mass murder at the death camp. He then features historians who relate fascinating context for how world governments ultimately balked at the opportunity to build an infrastructure for prosecuting crimes against humanity as far back as the Armenian genocide.
With the Nuremberg trials, a precedent was set, but as its last living prosecutor, Ben Ferencz, says in an interview, that too was an imperfect process.
"3,000 members of the Einsatzgruppen and I tried 22," Ferencz said of the Nazi mobile killing units active in Eastern Europe. "They were all mass murderers or accessories to mass murder. They limited the number of defendants I had to the 22 seats in the dock."
The postwar zeal for punishing Nazis — or at least those fitting nebulous descriptions of "major war criminals" — soon yielded to political considerations. The Cold War froze many attempts at further prosecution, as the West courted West Germany, whose government and judiciary contained many former Nazis.
Wilkinson's film highlights many criminals and collaborators who died free, evaded justice for decades or found their already light sentences reduced. Even the efforts of Simon Wiesenthal were shown to be inadequate when confronting a German justice system initially sympathetic to Nazis. Even if the prosecutors and judges were honest, there was an extremely high standard for being charged.
"It is not murder to put 300,000 people into the gas chambers if you didn't actually individual intend to brutally and sadistically murder a single individual," historian Mary Fulbrook explains.
Wilkinson's film, which received rave reviews in the U.K., is a fiery indictment of a historic injustice too little heeded or explained away. While he lays out a righteous case for the cynicism of governments, his challenge is also to the viewer to demand more from them.
Behind the countless murderers and accomplices to genocide who died without ever facing a day in court is a failure of not just political will, but patience and imagination.
Early on, Wilkinson tries to envision what the number 6 million looks like, using his home county of Yorkshire, with a population of 5.4 million, as a reference. At the end of the film, he asks President of the UK Holocaust Centre James Smith what England would do if the Nazis killed all of Yorkshire.
"Of course the British government would have pursued every last criminal to their last dying day," Smith said. "But the Jews weren't that important."
Getting Away With Murder(s) is available now to stream for free in the U.S. on Peacock, Roku and other streaming services.
The post How 99% of Nazis got away with murder appeared first on The Forward.