According to World Baseball Classic rules, a player can suit up for any country where he holds citizenship — or where he would be eligible to attain it. That's how Team Israel ended up stocked with American Jewish MLB stars. And it's why a tweet from an MLB.com staff reporter revealing that Chicago White Sox pitcher Dylan Cease — who finished second in American League Cy Young voting last season — had been on Team Israel's early roster sent Jewish baseball fans into a hopeful frenzy.
Cease was on the early roster for both Team Israel and Team USA for the World Baseball Classic but he will not be pitching in the competition.

— Scott Merkin (@scottmerkin) January 17, 2023
It remains unclear whether Cease considers himself Jewish, and a cursory Google search yielded nothing alluding to the religious identity of the 27-year-old right-hander who hails from the small town of Milton, Georgia. But an article on MLB.com Tuesday detailing Cease's decision to skip the March tournament mentions "Jewish heritage in his lineage."
Fans demanded more. "Is he Jewish??? I must know!" one wrote. "I have a tribe member on the Sox?" commented another.
Another account posted a meme depicting what Team Israel's pitch to the White Sox ace might be — hoisting him on a chair like the groom at a Jewish wedding:
Exclusive image of Team Israel's pitch to Dylan Cease: https://t.co/av3a8QcP9C pic.twitter.com/yEYUcN99zM

— Bennett Karoll (@TheBennettK) January 18, 2023
The MLB.com reporter who tweeted the news about Cease didn't elaborate on his Jewish lineage. So I looked into it.
Preliminary digging
I reached out to Cease by phone and via Instagram and to his father, Jeff Cease, on LinkedIn — neither has responded thus far. I also tried to figured out myself.
That preliminary Google search did produce some family lore: Dylan's father, Jeff, played high school football, and his paternal grandmother, Betty Cease, played professional baseball in the late 1940s. "Like A League of Their Own," Dylan's twin brother Alec told the Chicago Tribune. His mother's first name was not easily discoverable.
Going a little deeper, a search on JewishGen.org suggested that "Cease" could be an Anglicization of "Suissa," a common Mizrahi surname. That didn't prove anything.
So I contacted a Jewish genealogist for an assist.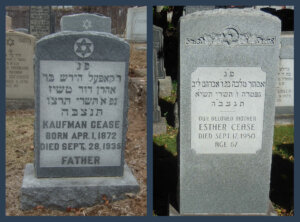 The tombstones for Dylan Cease's Jewish great-great-grandparents, Kaufman and Esther Cease, in Adas Israel Cemetery in New Haven. Photo by FindaGrave.com users Suzanne, and Jan Franco
Genealogical clues
Renee Stern Steinig, a genealogy hobbyist in Dix Hills, New York, had helped the Forward determine last summer that Irina McCarthy was among the Jewish casualties of the attack on a Highland Park July 4 parade, despite her non-Jewish sounding last name. (McCarthy's parents' surname was Levberg.) Steinig also used burial records to clarify that, "although each life was equally precious," a different victim, despite a Jewish-sounding last name, likely came from a Christian family.
Armed with scant information about Cease, Steinig found burial and other records for people who appear to be Cease's grandparents, great-grandparents and great-great-grandparents — all of whom are buried in Jewish cemeteries. And she figured out what is likely their ancestors' original European surname.
Here's what Steinig reported back: Jeff Cease's parents, Harold Cease and Betty Wright Cease (the ballplayer) are both buried in Lakeside Memorial Park, a Jewish cemetery in Doral, Florida, as are Harold's parents, Edward and Sarah (Beck) Cease. (Betty Wright's parents were probably not Jewish, Steinig noted, as a minister officiated at Betty's mother's funeral.)
Tracing the Cease ancestry into the 19th century, the FindaGrave.com profiles for Edward's parents Kaufman and Esther Cease, buried in Adas Israel Cemetery in New Haven, include photos of tombstones that show their Hebrew names: Koppel Hirsh son of Aharon David, and Esther Malka daughter of Avraham Leib.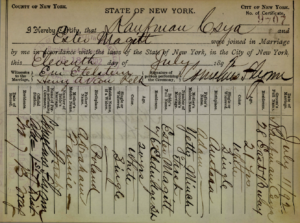 A New York marriage certificate for Kaufman and Esther Cease, turned up by genealogy sleuth Renee Stern Steinig. Courtesy of New York City Department of Historical Records
Steinig noted in an email: "Censuses report that Kaufman was from 'Austria' (i.e. the former Austrian Empire) and Esther from 'Russia' (the former Russian Empire). They probably immigrated c. 1890."
On what is probably Kaufman and Esther's marriage record, Steinig noted, the surname is spelled "Csya." 
And she added that from scanning the family tree of Dylan Cease's mother, Anne Marie (Carroll) Cease, she did not see any likely Jewish ancestry on that side.
Conclusion: Dylan Cease is most likely eligible for Israeli citizenship under the country's Right of Return law because it seems his father and (at the very least) his father's father were Jewish.
Reached by phone, White Sox Vice President of Communications Scott Reifert said he would share the research with Cease and try to confirm it.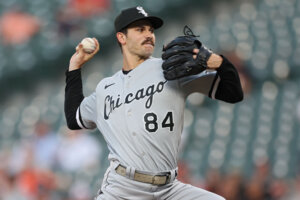 Dylan Cease pitching at Camden Yards in 2022. Photo by Patrick Smith/Getty Images
A loss for Team Israel
If he identifies as Jewish, Cease, who won 14 games and struck out 227 batters last season, would become part of a second lineage: that of Jewish hurlers past and present. Sandy Koufax needs no introduction in these pages. And Jewish Atlanta Braves southpaw Max Fried was 2022 Cy Young runner-up in the National League, like Cease was in the AL.
At the World Baseball Classic, Team Israel's rotation will feature Fried and the Baltimore Orioles' Dean Kremer, an Israeli American righty who enjoyed a breakout 2022. But a hard-throwing righty like Cease — whose four-seam fastball has been known to overheat a radar gun —would have bolstered their chances against a daunting pool that includes Puerto Rico and the Dominican Republic.
Cease was also on the 50-man list of possible players submitted by Team USA, but decided to focus on preparing for next season rather than compete in the games for either country. 
"It's definitely a huge honor and exciting any time you get the opportunity to represent something bigger than yourself like that," Cease told MLB.com. "It's a really big deal. But a lot of it is just the unfortunate reality of having to weigh not what's more important but essentially what I'm preparing for, and it made more sense not to risk anything and to prepare for the season."
Israel's first game, against Nicaragua, is March 11 in Miami.
The post Is White Sox ace Dylan Cease Jewish? appeared first on The Forward.