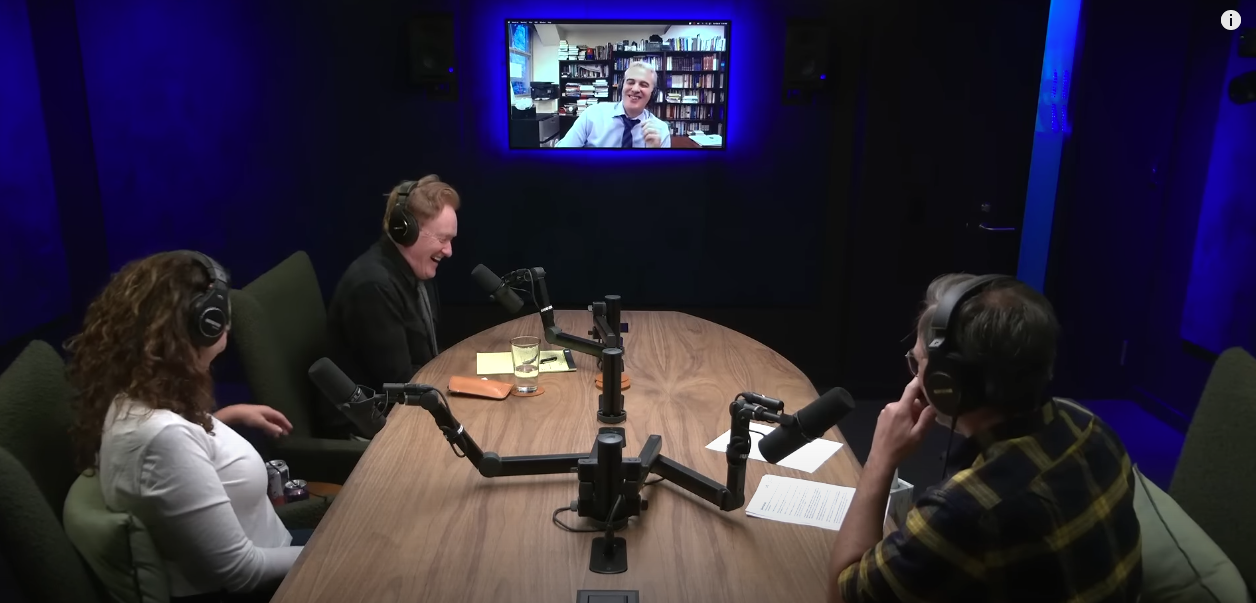 (New York Jewish Week) — Regular listeners of Conan O'Brien's podcast generally expect to hear the comedian interview A-listers such as Michelle Obama and Fleishman Is in Trouble star Lizzy Caplan.
But the former late-night host interviews "regular" people, too, and sandwiched between two recent episodes — featuring The Office" star Ed Helms and You star Penn Badgely — listeners can hear O'Brien crack jokes about Jewish life with a New York rabbi.
David Schuck, who is the rabbi at New Rochelle's Conservative Beth El Synagogue Center, appeared on the Dec. 29 episode of Conan O'Brien Needs A Friend, where he discussed his job as a congregational rabbi. 
"I honestly did not expect to be chosen to be on his podcast," Schuck told the New York Jewish Week via email. "I just thought it would be a thrill to meet him, and it was."
Schuck said that he has "always been a fan of Conan," adding that anyone can fill out a form online to be considered a guest on the show.



"He is a brilliant comedian with a rich intellectual life and he seems sincerely interested in other people," Schuck said. "The wonderful thing about Conan is that as far as I could tell, he is who he seems to be. There was no pretense with him or anything performative that changed when the audio was not being recorded."
In one segment of the episode that was featured on the comedian's YouTube page, O'Brien joked about accidentally mistaking foreskin for calamari at a bris — eliciting both groans and laughter from Schuck and O'Brien's crew.  
Schuck then shared that he buried his son's foreskin behind home plate at a baseball field in Central Park. 
"What a terrible image," O'Brien said. 
Conan, who is an Irish Catholic, said he grew up in an area of Boston where he was surrounded by synagogues. "Many of my friends were Jewish," O'Brien said. "I think I went to many more bar mitzvahs when I was a kid than first communions or any other Christian ceremony."
"You ended up in a good place, in Hollywood," Schuck joked.


"What the hell?" Conan said laughing. "Tone it down, David. It's not true, there are no Jewish people in Hollywood. It's all Mormons. It's the Mormons that control Hollywood." 
O'Brien asked Schuck if he is anything outside of synagogue that would identify him as a rabbi, or if Schuck can "go undercover." 
The rabbi replied that he does get recognized frequently, adding that when he runs to the grocery store for some chips, he might then find himself "counseling somebody in aisle six around a cancer diagnosis." 
"When I am not in New Rochelle or Westchester, I never tell people I am a rabbi, ever," Schuck said. 
Schuck told the New York Jewish Week that he did not let his synagogue know in advance that he would be on O'Brien's podcast. 
"People were surprised, and they were excited to hear us establish a sincere connection with one another," Schuck said. "In a strange way, people were touched that Conan felt genuinely grateful for the ways in which rabbis serve their communities." 
On the podcast, O' Brien riffed on New Rochelle, saying that he grew up fantasizing about living there because The Dick Van Dyke Show was set in the upscale northern suburb of New York City. 
"If I could live in New Rochelle and be married to Mary Tyler Moore and write comedy," O'Brien said. "Well, one of those came true." 
The rabbi added that Conan is always welcome to visit New Rochelle.
"I bet I could convince the mayor, Noam Bramson, to give him the key to the city," Schuck told the New York Jewish Week. "I make a mean cholent if Conan wants to share a Shabbat meal with us. Otherwise, this will just go down as a thrilling opportunity to chat with someone whom I admire."
This article originally appeared on JTA.org.
The post Conan O'Brien talked to this New York rabbi about Judaism on his podcast appeared first on The Forward.