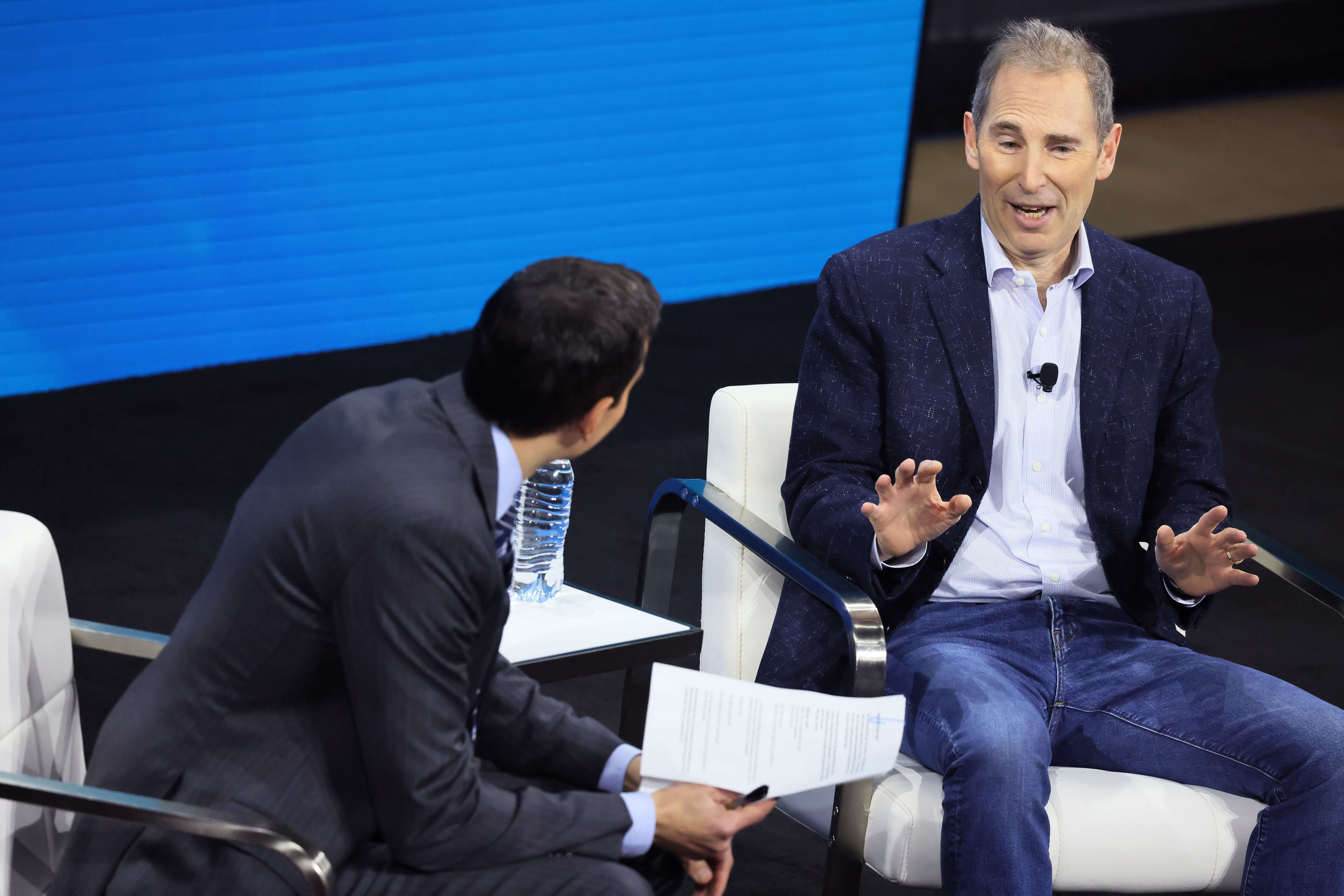 There was once a time when it was gauche to court the Nazi vote or take the antisemite's dollar, but the head of Amazon just indicated that he takes more of a "customer is always right" approach to his business.
On Wednesday, CEO Andy Jassy, who is Jewish, told The New York Times' Andrew Ross Sorkin that, when it comes to the fate of certain inflammatory titles, like the Kyrie Irving-promoted Hebrews to Negroes, the retailer has "to allow access to those viewpoints, even if they are objectionable," Variety reported.
The reason being that Amazon sells to "hundreds of millions of customers with a lot of different viewpoints," Jassy said at the Times' DealBook Summit.
Deja vu.
Maggie Haberman's Donald Trump book, Confidence Man, said the former president was reluctant to disavow David Duke because "a lot of these people vote."
Is Jassy's stance simply economically cynical or virtuous to a fault a la the ACLU's defense of the KKK? Well, Jassy, who joined Amazon in 1997 and took over for Jeff Bezos last year, said that it's really all just very complicated. Bumping Hebrews to Negroes would be less "straightforward" than 86-ing work that promotes violence or pedophilia. But that doesn't seem straightforward either in a world where, to certain conservatives, anything involving drag queens is considered grooming and Quentin Tarantino's work makes extreme violence look insanely cool. 
Hebrews to Negroes, which became a bestseller on Amazon after Irving's tweet, is not objectionable because it promotes violence or pedophilia, but because it says that it's a "lie" that "6 million Jews died in a holocaust [sic] during WWII," that white Jews are impostors and that Jews orchestrated the transatlantic slave trade. There aren't any instructions about how to kill Jews in it — most of the film is devoted to pseudo-history and composed of slides — but Mein Kampf didn't exactly break that down either.
Speaking of Mein Kampf, that's a title that Amazon continues to sell on Kindle, but, as Variety notes, its proceeds go to Jewish charities. (Apologies to the Hitler estate, who ran out the clock on the copyright anyway.)
But while one could defend selling Hitler's manifesto because of its historical importance, it's the rare Nazi exception on the internet marketplace, which still manages to host plenty of Nazi bands and merch and be overwhelmed by the moderation thereof. 
That said, Amazon was happy to remove almost two dozen Nazi propaganda films identified by Americans Against Antisemitism in January, and a few of those seemed to have merit for teaching about Nazi propaganda. A few of the ones the Wiesenthal Center identified contained historical context from academics and others, like Jew Suss and Triumph of the Will, have historical and cinematic significance.
The same just can't be said for Hebrews to Negroes, which, according to our own Louis Keene, is a meandering mess of a lecture filled with falsehoods from a director-narrator who claims the movie was divinely inspired. 
It's of interest now because Kyrie Irving tweeted about it (and later, after much waffling, apologized for tweeting it). Protecting diverse viewpoints is Amazon's prerogative, but can the world's biggest retailer really not earn a buck without accommodating conspiracy theorists — or worse? (I mean, is firing 100,000 people not enough to protect your bottom line?) 
If there's a person who boycotts you for removing a movie with a fake Hitler quote, is that really someone whose business you want?
I guess that person's money's just as green as the next guy's, his vote as valid, his curiosity as worthy of indulging. But Amazon could afford to be more curious about what happens when it sells things like this. Those "objectionable viewpoints" don't appear out of nowhere, even if same-day delivery can make it seem that way.
The post Amazon CEO says he'll still sell that antisemitic movie Kyrie Irving tweeted about appeared first on The Forward.