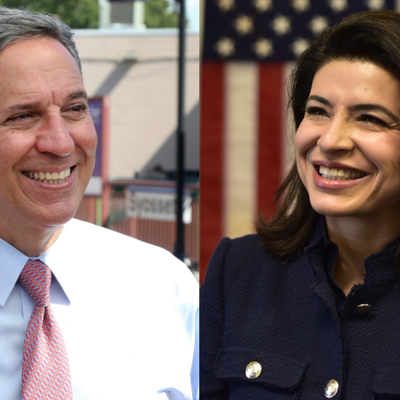 Democrats in the state Legislature are in for a close fight, as early returns on election night showed several incumbents in extremely tight races – including several potential surprise upsets.
While few of the state Legislature's most competitive races were called as of 1 a.m. on Wednesday – and Suffolk County had yet to report any results – early tallies showed Democratic incumbents including state Sens. James Skoufis, Elijah Reichlin-Melnick, Pete Harckham, and Assembly Members Stacey Pheffer Amato, Mathylde Frontus and Peter Abbate Jr. with tight margins.
Democratic Assembly Member Steven Cymbrowitz and state Sen. John Brooks, meanwhile, trailed their Republican opponents by much more drastic margins.
With results slowly trickling in, these races are still in flux and a clear picture of the Legislature's makeup is not yet evident. But much of the potential trouble for Democrats came from pockets of Brooklyn and the Lower Hudson Valley, where the party appeared to have underperformed.
After gaining a supermajority in the state Senate in 2020, Democrats have dominated the state Legislature. But initial election results show that Republicans have a good chance at picking off some of that edge. In their attempt to do so, Republican candidates have largely campaigned on inflation and crime – the top two issues for most voters heading to the polls.
After a chaotic redistricting process that led to a court-appointed special master redrawing new state Senate maps, Republicans are in a comparatively better position than the maps proposed by Democrats. However, compared to the previous maps based on the 2010 census, the Republican Party still finds itself in a tough position heading into Election Day – with many of their safe seats turned competitive. Long Island is home to several contentious races and a key battleground that Republicans are hoping to win. The new state Senate maps created lots of competitive races – pitting incumbents against one another, the potential for political comebacks and several open seats. And while the Assembly doesn't have as many competitive races, there are still a few worth keeping an eye on.
These Democratic candidates have been declared as winners in the following state Senate races: Kevin Thomas (6), James Sanders Jr. (10), Michael Gianaris (12), Jessica Ramos (13), Leroy Comrie (14), Julia Salazar (18), Roxanne Persaud (19), Zellnor Myrie (20), Kevin Parker (21), Simcha Felder (22), Jabari Brisport (25), Andrew Gounardes (26), Brian Kavanagh (27), Liz Krueger (28), José M. Serrano (29), Cordell Cleare (30), Robert Jackson (31), Luis Sepúlveda (32), Gustavo Rivera (33), Andrea Stewart-Cousins (35), Jamaal Bailey (36), Shelley Mayer (37), Neil Breslin (46), Brad Hoylman (47), Samra Brouk (55), Kristen Gonzalez (59), Sean Ryan (61), Timothy Kennedy (63).
These Republican candidates have been declared as winners in the following state Senate races: Alexis Weik (8), Andrew Lanza (24), Dan Stec (45), Mark Walczyk (49), Joseph Griffo (53), Pamela Helming (54), Thomas O'Mara (58), Patrick Gallivan (60), Robert Ortt (62).
In addition to the competitive races that City & State New York is tracking on election night, these are the likely Democratic state Senate winners – with their district numbers in parentheses – of races that aren't expected to be close: Toby Ann Stavisky (11), Joseph Addabbo (15), John Liu (16), Nathalia Fernandez (34), Rachel May (48).
These are the likely Republican state Senate winners of races that aren't expected to be close: Dean Murray (3), Peter Oberacker (51), George Borrello (57).
For third-party abbreviations below, WFP is the Working Families Party, CON is the Conservative Party, IND is the Independence Party and MFP is the Medical Freedom Party.
Click here to view the statewide general election results and the congressional election results.
State Senate
1st District
Suffolk County
Incumbent: Anthony Palumbo (R)
Anthony Palumbo (R, CON): 54.83%
Skyler Johnson (D, WFP): 42.30%
With 208 of 211 election districts reported
2nd District
Suffolk County
Incumbent: Mario Mattera (R)
Mario Mattera (R, CON): 56.66%
Susan Berland (D, WFP): 40.85%
With 269 of 270 election districts reported
4th District
Suffolk County
Incumbent: Vacant, Republican Phil Boyle retired on Oct. 21
Monica Martinez (D, WFP): 49.18%
Wendy Rodriguez (R, CON): 46.85%
With 198 of 201 election districts reported
5th District
Nassau County
Incumbent: John Brooks (D)
Steven Rhoads (R, CON): 59.03%
John Brooks (D, WFP): 37.86%
With 257 of 257 election districts reported
7th District
Nassau County
Incumbent: Anna Kaplan (D)
Jack Martins (R, CON): 51.98%
Anna Kaplan (D, WFP): 45.45%
With 264 of 264 election districts reported
9th District
Nassau County
Incumbent: Vacant, Todd Kaminsky (D) resigned on July 29
Patricia M. Canzoneri-Fitzpatrick (R, CON): 53.84%
Kenneth Moore (D, WFP): 42.09%
With 246 of 246 election districts reported
17th District
Bensonhurst, Bay Ridge and Sunset Park, Brooklyn
Incumbent: 
Iwen Chu (D, WFP): 48.30%
Vito LaBella (R, CON): 47.70%
With 123 of 123 election districts reported
23rd District
North Shore of Staten Island and Coney Island, Brooklyn
Incumbent: Diane Savino (D), who is not seeking reelection
Jessica Scarcella-Spanton (D): 49.01%
Joseph Tirone (R, CON): 46.38%
With 162 of 162 election districts reported
38th District
Rockland County
Incumbent: Elijah Reichlin-Melnick (D)
Bill Weber (R, CON): 49.29%
Elijah Reichlin-Melnick (D, WFP): 45.81%
With 286 of 286 election districts reported
39th District
Hudson Valley
Incumbent: James Skoufis (D) running in the 42nd District
Rob Rolison (R): 51.30%
Julie Shiroishi (D, WFP): 44.84%
With 261 of 261 election districts reported
40th District
Westchester, Putnam and Rockland counties
Incumbent: Pete Harckham (D)
Pete Harckham (D, WFP): 53.26%
Gina Arena (R): 46.74%
With 350 of 355 election districts reported
41st District
Hudson Valley
Incumbents: Sue Serino (R), Michelle Hinchey (D), who were redistricted into the same seat
Michelle Hinchey (D, WFP): 51.63%
Sue Serino (R, CON, IND): 46.94%
With 297 of 297 election districts reported
42nd District
Orange County
Incumbent: James Skoufis (D)
James Skoufis (D, WFP): 48.95%
Dorey Houle (R, CON): 47.76%
With 275 of 275 election districts reported
43rd District
Rensselaer, Washington and Albany counties
Incumbent: Daphne Jordan (R), who dropped out due to redistricting
Jake Ashby (R, CON): 51.39%
Andrea Smyth (D, WFP): 45.47%
With 255 of 255 election districts reported
44th District
Saratoga and Schenectady counties
Incumbent: James Tedisco (R)
James Tedisco (R, CON): 55.98%
Michelle Ostrelich (D, WFP): 41.87%
With 248 of 248 election districts reported
50th District
Onondaga and Oswego counties
Incumbent: John Mannion (D)
Rebecca Shiroff (R, CON): 49.29%
John Mannion (D, WFP): 48.97%
With 289 of 289 election districts reported
52nd District
Tompkins, Cortland and Broome counties
Incumbent: Fred Akshar (R), running for Broome County sheriff
Lea Webb (D, WFP): 49.82%
Richard David (R, CON): 48.41%
With 222 of 222 election districts reported
56th District
Monroe County
Incumbent: Jeremy Cooney (D)
Jeremy Cooney (D, WFP): 52.73%
Jim VanBrederode (R, CON, IND): 44.95%
With 0 of 340 election districts reported
Assembly
District 15
Northeastern Nassau County
Incumbent: Michael Montesano (R), who is running for Nassau County District Court judge
Jake Blumencranz (R, CON): 55.47%
Amanda Field (D): 40.33%
With 112 of 112 election districts reported
District 21
Malverne, Lynbrook and Rockville Centre, Nassau County
Incumbent: Judy Griffin (D)
Judy Griffin (D): 48.33%
Brian Curran (R, CON): 48.85%
With 117 of 117 election districts reported
District 23
Howard Beach and Rockaway, Queens
Incumbent: Stacey Pheffer Amato (D)
Tom Sullivan (R, CON): 49.24%
Stacey Pheffer Amato (D): 48.44%
With 105 of 105 election districts reported
District 30
Elmhurst and Woodside, Queens
Incumbent: Brian Barnwell (D), who is not seeking reelection
Steven Raga (D): 54.55%
Sean Lally (R, MFP): 39.63%
With 70 of 70 election districts reported
District 45
Gravesend and Brighton Beach, Brooklyn
Incumbent: Steven Cymbrowitz (D)
Michael Novakhov (R, CON): 58.20%
Steven Cymbrowitz (D, IND): 38.25%
With 54 of 54 election districts reported
District 46
Bay Ridge, Fort Hamilton and Coney Island, Brooklyn
Incumbent: Mathylde Frontus (D)
Alec Brook-Krasny (R, CON): 49.11%
Mathylde Frontus (D, WFP): 46.32%
With 76 of 76 election districts reported
District 49
Dyker Heights, Bath Beach, Bensonhurst and Borough Park, Brooklyn
Incumbent: Peter Abbate Jr. (D)
Lester Chang (R, CON): 50.29%
Peter Abbate Jr. (D): 45.61%
With 52 of 52 election districts reported
District 63
Mid-Island, Staten Island
Incumbent: Michael Cusick (D), who is not seeking reelection
Sam Pirozzolo (R, CON): 53.54%
Vincent Argenziano (D, I): 44.22%
With 77 of 77 election districts reported
District 73
Upper East Side, Manhattan
Incumbent: Dan Quart (D), who is not seeking reelection
Alex Bores (D, WFP): 71.08%
David Casavis (R): 25.10%
With 71 of 71 election districts reported
District 90
Yonkers
Incumbent: Nader Sayegh (D)
Nader Sayegh (D, Fair Deal): 47.97%
Michael Breen (R, CON): 46.89%
With 163 of 166 election districts reported
District 97
Rockland County
Incumbent: Mike Lawler (R), who is running for Congress in the 17th District
John McGowan (R, CON): 61.35%
Eudson Tyson Francois (D): 30.33%
With 106 of 106 election districts reported
District 99
Orange and Rockland counties
Incumbent: Colin Schmitt (R), who is running for Congress in the 18th District
Christopher Eachus (D): 47.52%
Kathryn Luciani (R, CON): 47.47%
With 100 of 100 election districts reported
District 113
Saratoga, Warren and Washington counties
Incumbent: Carrie Woerner (D)
Carrie Woerner (D): 51.22%
David Catalfamo (R, CON): 46.99%
With 110 of 110 election districts reported
District 135
East Rochester and Pittsford
Incumbent: Jennifer Lunsford (D)
Jennifer Lunsford (D, WFP): 54.41%
Joseph Chenelly (R, CON): 44.10%
With 0 of 148 election districts reported